Transforming today's Partners working in General Practice into tomorrow's healthcare leaders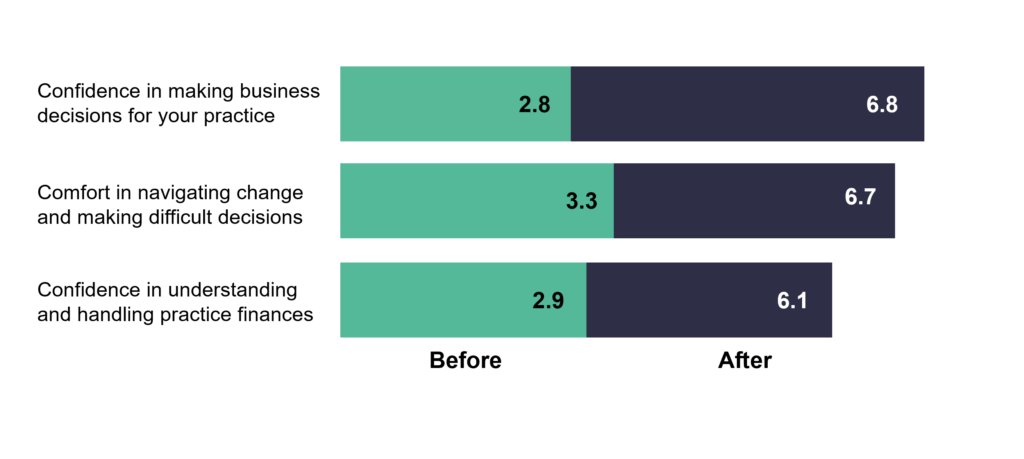 Overview:
Pathway to Partnership is a transformative experience, introducing participants to a community of like-minded Partners working in General Practice focused on developing the skills needed for the future of healthcare.
The programme works with partners of all experience levels to support compassionate, innovative, highly skilled leaders.
Programme participants have shown tremendous improvement in their confidence to make business decisions, navigate change, and understand and handle practice finances.
Leadership, strategy, and operations are the three areas from which Qualitas see the majority Partners' questions arising. This was the reason in late 2021, that we launched the award winning Pathway to Partnership programme. (1)
Pathway to Partnership supports innovation and resilience through compassionate leadership.
To date, Qualitas Pathway to Partnership graduates have exceeded 200 Partners in 180 practices across England. As we reflect on our first year of the programme, we see more clearly than ever, that when given a space to develop business and leadership skills, new Partners working in General Practice will thrive.
At the start of each cohort, we ask new partners what they hope to gain from the course, what we hear most often is:
Understanding practice finances and funding streams
Increased knowledge of business management
Improved human resources and workforce management skills
Increased confidence as a leader
Over the course of 12 months, participants join experts in business and primary care to learn approaches for improving their practice that are then applied through mini projects. The results have surpassed our expectations. On a 10-point scale, participant's confidence in making business decisions increased by 4 points (from 2.8 to 6.8). We saw similar increases in comfort in navigating change (3.4 points) and confidence in understanding and handling practice finances (3.2 points).
"The things that [Pathway to Partnership] opens your eyes up to are amazing… GPs aren't trained to think like that and I think especially now, more than ever, that we've got to work smarter and just try to be more business-like than ever, because things are just getting harder and harder."
Dr. Hannah Burdekin, Cohort 3
Pathway to Partnership Participant Changes on Key Indicators
Who Should Sign Up for Pathway to Partnership?
Pathway to Partnership is designed for Partners of all experience levels who are looking to accelerate their professional development and join a community of like-minded leaders who are focused on the practice styles of the future. Information is targeted toward practices with a minimum 3,000 patients and 2 partners. New programme cohorts are launched every six months.
Interested in Learning More?
Full information about the programme and available NHS funding can be found on HERE
Winner of the HCP Education Programme / Provider of the Year at the 2022 General Practice Awards